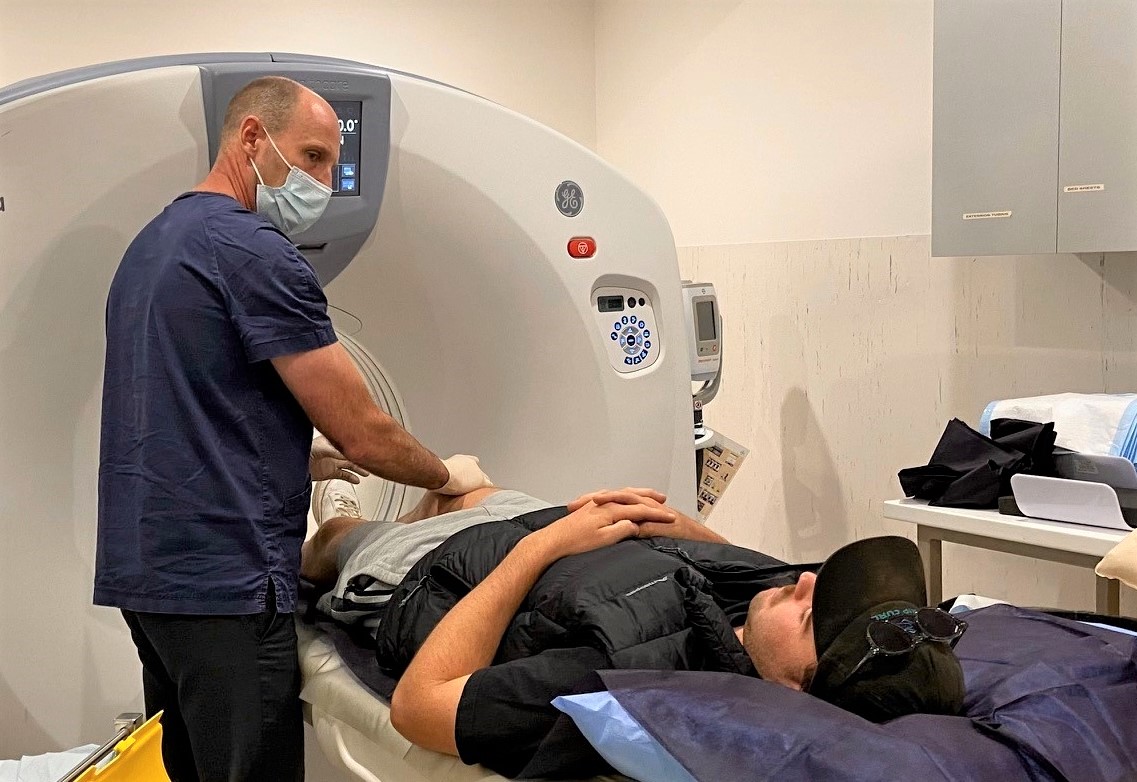 Interventional Procedures
What are Interventional Procedures?
Interventional procedures are performed under imaging guidance (usually ultrasound or CT) to accurately target the specific area, minimising risk for improved outcomes. specialist radiologist performs these examinations, and our staff provide support during the procedure. Sometimes you will need to stay in the clinic post-procedure for observation, and you may be requested to bring a family member or friend to drive you home afterwards.
What do you need to bring to your appointment?
Your referral form
Medicare card or any concession cards
Any prior imaging
Is an appointment required?
Yes, all interventional procedures at our practice require an appointment.
MSK Injury Treatments
As the first Radiology Day Procedure Centre in Australia, patients undergoing certain interventional procedures will be able to do so as an inpatient of our facility, with costs covered by their private health fund.
Some treatments offered at Imaging @ Olympic Park include:
Euflexxa Injection
Interventional Pain Management in Osteoarthritis
Mechanisms of Action
Euflexxa is synthetic copy of hyaluronan, a viscous and elastic substance found in normal synovial joint fluid. It is injected directly into the joint to improve joint function and works in the following ways:
Lubrication and shock absorption.
Anti-inflammatory actions.
Analgesic properties.
Stimulates production of normal, non-inflamed joint fluid.
Protects residual cartilage within the joint.
Euflexxa can be used in the knee, hip, ankle and foot, as well as the shoulder, elbow, wrist and base of thumb.
The Treatment
Euflexxa has been shown to have improved efficacy in a non-swollen and less inflamed joint, so it is recommended to have any excess fluid in the joint aspirated and treated with cortisone 2 - 4 weeks prior to commencing Euflexxa. A referral for ultrasound and aspiration of the joint effusion can be included with your Euflexxa referral from your doctor.
The injection is performed under CT guidance and sterile conditions by one of our doctors.
The Euflexxa treatment is a series of 3 injections performed 1 - 2 weeks apart. The length of each appointment is 10 - 15 minutes and patients are able to drive after each injection.
At the first appointment, any excess inflamed joint fluid will be aspirated from the joint via the same needle that will administer the Euflexxa.
Relative rest for 48 hours is recommended after each injection. Where possible, avoid activities that exacerbate or worsen the joint symptoms during that time.
The maximal effect of Euflexxa is seen at 8 weeks after the first injection. Beneficial effects in some patients can extend beyond 6 months and the treatment can be performed twice a year.


Side Effects and Risks
Transient joint swelling or stiffness.
Bruising or mild-moderate temporary pain at the injection site.
Infection is rare. If fever develops with joint pain, swelling, redness and warmth in the week following an injection, you should immediately contact your doctor and our practice.

If you have any other concerns regarding the treatment, please contact our clinic.
Euflexxa is recommended for use in symptomatic osteoarthritis by the International Osteoarthritis Research Society, European League Against Rheumatism, American College of Rheumatology (American Arthritis Foundation) and European Society for Clinical and Economic Aspects of Osteoporosis and Osteoarthritis (ESCEO).
Epidural Injection
An epidural injection is an injection into the fluid space surrounding the spinal cord (epidural space). They are performed to treat neck, back, arm and leg pain.
Facet Joint Injection
Facet joints are small joints of the spine that provide stability and help guide motion.  They are found in the neck (cervical), upper back (thoracic) and lower back (lumbar).  They can become painful as a result of arthritis, injury or mechanical stress. Facet Blocks are usually performed for two (2) reasons: 1. Diagnosis or 2. Treatment.
Medial Branch Block
A Medial branch Block is a test to determine whether pain arising from a Facet Joint can be relieved by numbing the nerve (medial branches) with an injection of local anaesthetic.
Prolotherapy
Prolotherapy is the injection of a sugar-based solution into a damaged ligament. The agent induces scar tissue formation to strengthen damaged soft tissues.
Nerve Root Block
Nerve roots may become inflamed and angry if impinged by a bulging disc or bony ridge. A nerve root block injection can confirm the diagnosis and provide pain relief.
Botox Injections 
Botox (Botulinum toxin type A) injections reduce muscle bulk as well as muscle contracture that have the potential for causing pain.
Botox works by blocking the chemical signal (neurotransmitter) normally causing contraction of the muscle. This provides relief from involuntary muscle activity or increased muscle tone resulting in painful spasticity.
Botox Injections Patient Factsheet
RFD – Radio Frequency Denervation
Radio Frequency Denervation or rhizolysis is minimally invasive procedure that involves the emission of pulsations of heat through a fine needle to disable and prevent nerves from transmitting pain signals.
Achilles Paratenon Stripping
In a chronically painful Achilles, the tendon gets stuck or ahered to its covering. This procedure breaks up these adhesions to free up the tendon and provide pain relief.
When is the next availability for interventional procedures?
You will need to check the availability for your specific interventional procedure with us.
What are the limitations around driving after procedures?
This will depend on the interventional procedure performed. At the time of your booking, our team will let you know of any limitations around driving post your procedure and answer any other questions around the procedure and recovery instructions.
How long does it take for the injection to work?
This will be dependent on several factors that your GP and our team will take you through prior to your appointment.
I need the same kind of scan or injection I have previously – do I need a new referral, or can I just use the same referral?
You will need to obtain a new referral from your GP or specialist prior to making an appointment. Referrals are only valid for one procedure, unless otherwise stated for a course of treatment. 
Corticosteroid Injections
Corticosteroid is a powerful anti-inflammatory and pain-relieving agent commonly used for arthritis (joints), tenosynovitis, bursitis, ITB friction syndrome and can be used for some tendon conditions.
PRP – Platelet Rich Plasma Injection
An injection of your own blood that is centrifuged to separate out the blood components. Plasma contains growth factors that when injected incites an healing response. This can be used for the treatment of joints, tendons and muscle pathologies.
Cytokine Therapy or Autologous Conditioned Serum (ACS)
Interleukin 1 Receptor Antagonist (IL-1Ra)  is a powerful "protective" protein that helps relieve pain and inflammation whilst maintaining a healthy joint. Osteoarthritis occurs when our destructive and protective elements become unbalanced and causes cartilage damage, that is, the body produces too many destructive elements such as Interleukin 1.  Your blood is processed to stimulate a high concentration of this "protective" protein which is then injected into the affected area at weekly intervals. This can be used for the treatment of joint pain due to osteoarthritis, tendon or muscle injuries.
Shoulder Hydrodilatation
This is a common treatment for frozen shoulder (adhesive capsulitis) or internal impingement. An injection is made into the shoulder capsule under x-ray control.
Shoulder Hydrodilation factsheet
Alcohol Injection
Alcohol can be used to ablate sensitized nerves (fat pad impingement of the knee) or nerve tumours (Morton's neuroma).
ABI – Autologous Blood Injection
An injection of your own blood into tendons and muscles to incite a healing response.
Ganglion Aspiration/Injection
Ganglion's are small cysts or pockets of fluid. Under ultrasound guidance we can introduce a needle to drain their contents and inject medication to help them heal.
Polidocinol Injection
This is an injection into pathological blood vessels that are sometimes seen in abnormal tendons. A sclerosing agent is injected to occlude blood flow and reduce pain.
Find a practice
Looking to come in for a visit? Click here for our clinic details.
Our Location
Fees and billing
In most instances, we bulk bill to Medicare, but it is important to check with our team prior to your service.
Fees & Billing